Action at the Gait Cup is hot and heavy. The round of 8 has been determined and both Outlaws 2014 and 2015 teams are in that elite group. I don't know the bracket structure, but it is possible that two victories by both the 2014 and 2015 teams would pit one Outlaw team against the other in the finals! I'll post more as I got additional information.
–––––––––––––––
The 2014 Alcatraz Outlaws, after taking the Championship at King of the Hill, were upset in the Elite Eight at the Gait Cup. They had a heckuva run. Between the two tournaments, they came away with one Championship and only a single loss. Congrats to the 2014s for repping NorCal and the Outlaws so well. They had quite a season. Two tournaments, one Championship, and only one loss! Here they are in their Championship picture at King of the Hill: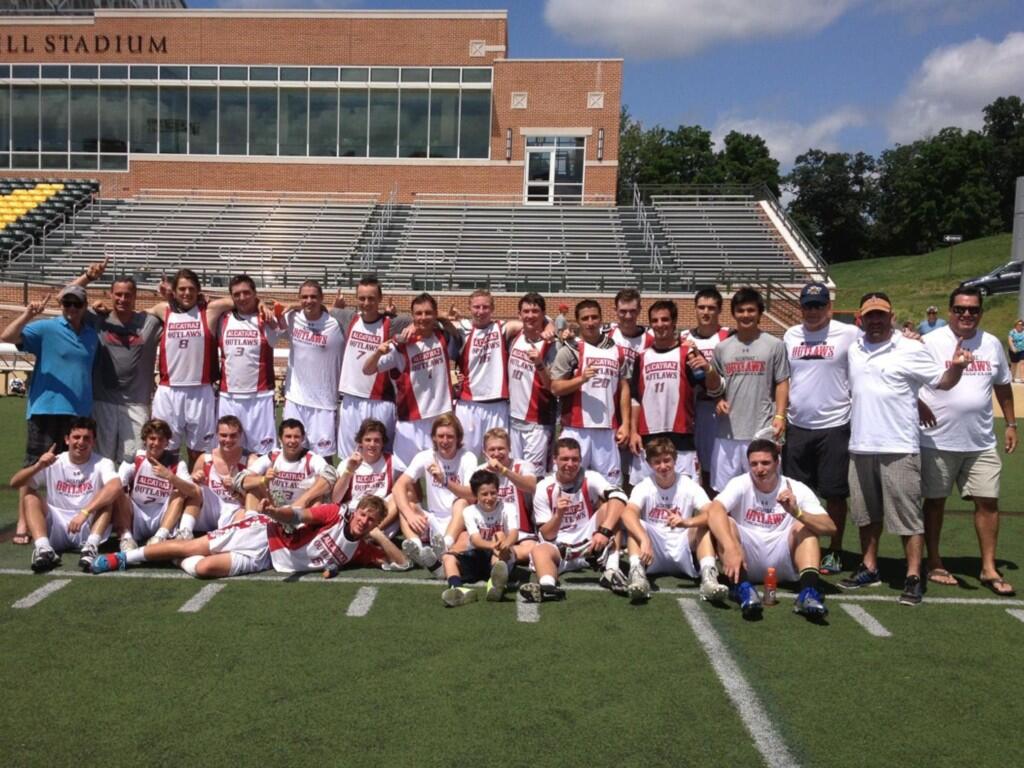 Alcatraz Outlaws 2014 team: Champions at King of the Hill
The 2015s are still alive at the Gait Cup. They won their Elite eight round and now move to the semi-finals. Go 2015s!
Update:
The 2015 Outlaws won their semi-final match, but the Looney's prevailed in the Championship game.
How amazing for NorCal lacrosse to send two squads to two elite tournaments and perform so well. Congratulations to the players and to their coaches!
Season recap:
The two Outlaws teams played in 27 games this tournament season, finishing with a combined record of 24-3.
What began as the dream of three coaches, has turned into an amazing reality. They participate at the same two, highly regarded, tournaments each year and, I believe, have never had a losing record for the summer. In the beginning, they were unknown and unheralded, but they were also UNDAUNTED! They are no longer unknown and no longer unheralded. The following quote from the coach of a competitor team at the Gait Cup says it all. Talking to his team, as they were about to play the Outlaws, he said, "Now, you're gonna try to beat the team that every team in the country wants to beat."
I
mpact on NorCal Lacrosse:
This has been a wonderful year for NorCal lacrosse, what with Marin teams performing so well in NCS, and St. Ignatius finishing 12th in the country in LaxPower's combined Coaches and Computer poll, while nearly pulling off the first California win, ever, against a national top 10 team (Chaminade), but the cumulative reputation created for Northern California lacrosse by the Alcatraz Outlaws is right up there! Trying to rank these three wonderful accomplishments would be, I think, a mistake. They are all amazing, and they all demonstrate the growing force that is – NORCAL LACROSSE!